I felt more at ease with Pedal for Scotland from the moment I decided not to attempt the 113 mile sportive route. The 47 mile challenge ride just felt like a more manageable distance that I wouldn't have to worry about extensively training for. I didn't even feel any shame about switching from my original sportive entry to the challenge ride, as after struggling through the Graeme Obree Sportive and doing the Great Scottish Run I knew it was a wise move.
As last year's event had demonstrated, being entered as a team with the lads didn't mean we'd ride together, either. Their higher level of fitness on the bike just meant that I got left behind and it was a solo affair anyway, so switching to the challenge ride and focussing on my own level of performance seemed like a way of maybe enjoying the event this time around.
I got the first train of the morning up to High Street Station like I'd done the week before for the Great Scottish Run, so there was a certain element of deja vu about being on the train at that time. I didn't see as many people with bikes as I had with running kit on the previous Sunday, though, so this had me thinking that maybe the attendance was down on 2011.
That notion was quickly laid to rest when I arrived at Glasgow Green – the line of people with their bikes was huge – splitting in two after the monument and continuing on to the far corners of the park. I walked until I was at the back of The People's Palace before jumping in line. I felt a bit guilty, but nobody seemed to mind.
After a while standing in line I got talking to a guy with a mountain bike who was beside me and over the next 40 minutes we chatted about this and that. Eager to get underway I could literally feel the time ebbing away as we moved toward the start line at a glacial pace.
Once we got going I took off and left my line buddy behind, eager to just get on with it and try to post a time under four hours. I knew the kind of surface I was in store for going up High Street past the office, considering I walk it most days of the week, but some of the roads they had us on as we meandered out of the city were appalling. One was even being resurfaced and was just grit and ground up road. You'd think that someone at Glasgow City Council would be mindful that with a major cycling event happening they'd put off digging up the roads that formed the route.
I seemed to get stopped at every set of lights on the way out of the city, but felt I was setting a reasonably good pace. My saddle felt a little bit too far back and I knew my back would be killing me if I did the whole ride in that position, so at the first food & water stop at around the 12km mark I parked up and found someone that would lend me a multi-tool to fix it.
The lady who loaned me an Allen key was riding a Brompton folding bike and was something of an evangelist for the brand. We rode together and talked for a while after the food stop, but I was keen to get on and left her to it after a bit.
After that I made pretty good time, maybe chatting with someone for a while, but I found that if I just kept my head down and my pedals spinning I was pretty comfortable on the bike. From about the 1 hour 30 mark to the 3 hour mark I felt about as good on the road bike as I've ever done and was keeping up a really good pace. At one point I passed the guy I'd spoken to before the start, who hadn't stopped at all and had made a good 10 minutes on me when I was stopped fixing my saddle. I said hello again and he seemed to be enjoying his day, but I didn't stop with him for more than a minute.
Along the way I saw the aftermath of a couple of accidents. Despite the horrendous weather in the 2011 event I don't remember coming across any crashes during the day, so it was quite sobering to see people lying by the side of the road with their clothes torn up when we were riding in such great conditions.
One guy I spoke to complained about the sheer number of "non-cyclists" doing the event. He had a point, in that there were indeed a lot of wobbly people with poor road sense. I think one of the main points of Pedal for Scotland is to be inclusive, though, so it's hard to see how you'd prevent inexperienced people from taking part.
For the most part I had a trouble free ride despite the bumpy roads. At one point I was sure I was going down after hitting a big seam in the road whilst drinking from my water bottle, but got away with it.
I pulled in at the final food stop and gave it ten minutes just to shake my legs out. I think I got a bit carried away during the second hour and my quads were starting to cramp up a little. Nothing like I experienced on the Bealach Beag, but I was determined not to break down physically, so stopping for ten minutes was the smart move even if it cost me some time.
After that I just maintained a decent pace all the way to the end. The cycle path stretch was a bit hairy with all the bottlenecks of slower riders, but once I caught site of Murrayfield in the distance I knew I was making it to the end.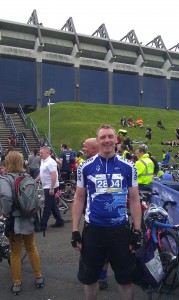 This year I finished with a smile on my face instead of a hollow grimace and that was the surest vindication for switching from the sportive ride to the challenge route. As luck would have it, George finished the sportive at roughly the same time as I had crossed the line, so we met up and sat on the grassy banks beside the stadium and shot the breeze until Adrian showed up.
Their account of the sportive route was not a positive one, as they too had suffered on some bad roads – including a stretch of farm road that was covered in cow muck. At least I didn't have to endure anything like that, even if it was a bumpy ride.
I had to leave the lads to wait for Stewart, as I had to be back home to attend a show, but on the bus back to Glasgow I felt a quiet satisfaction that I'd chosen the right challenge for me and given a good account of myself considering the limited miles I'd done on the bike with all of the Great Scottish Run training.
I might not have been the fastest, but I finished in under four hours and I enjoyed it enough that I'm looking forward to doing it again next year. 🙂